When I lived in Japan I used to see Indians almost every day, just about every day. They were practically everywhere, at least in Tokyo and its surrounds, where I spent most of my time: teaching English, running supermarkets, working in IT; you'd see couples or whole families strolling under parasols through wet Myoden (妙典) on the way to the recycled clothes store at Gyotoku (行徳), or jogging on the concrete banks of the Arakawa River (荒川) in Hirai (平井), or jostling along with the rest of human tide in Shinjuku (新宿) where Indian and Pakistani and Bangladeshi restaurants always did a good trade, and Indian food was popular, perennially. I probably noticed them more because I happened to live in Shinozaki in the Edogawa Ward of Tokyo, which was (and still is) renowned for being one of the centers of the Indian diaspora in Japan. There was an Indian kindergarten/preschool/elementary school/high school just down the road from my old place, near Mizue Station in South Shinozaki. There were plenty of Indians on the train, the Toei Shinjuku Line train. For some reason the Indians tended to congregate in the first carriage, it had become a local tradition. According to statistics there were 22,000 Indians living in Japan in 2010, but there actually seemed to be a lot more. That might because as a foreigner I tended to notice other foreigners easily, and Indians stuck out from the crowd just as much as I did.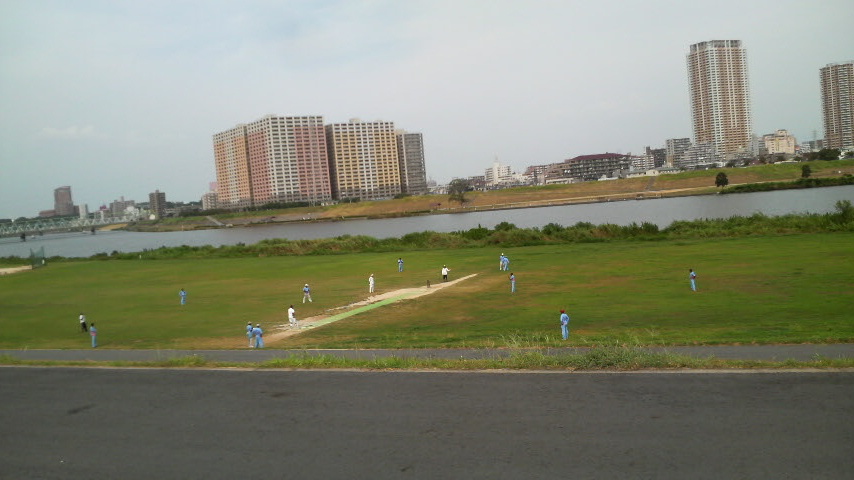 Indian cricket game on the bank of the Edogawa River, facing Ichikawa City, surrounded by baseball fields.
Being a nomad myself, I am always interested to meet fellow wayfarers in strange parts of the world, and understand what motivated them to leave the safety and security of home. I also have an interest in ethnic enclaves in general, like the eccentric Ethiopian congregation on the roof of the Church of the Holy Sepulchre in Jerusalem, or the Icelandic/Scandinavian towns on the North American plains. About five years ago (late 2007) I was invited to dinner by Umesh my old Nepali friend in Koenji in west Tokyo, and in the process, I got a glimpse of just how the subcontinental community in Japan lives. Like my own neighborhood in Shinozaki, Koenji has become a magnet in recent years to guest workers and opportunists from the subcontinent: Umesh said his ageing apartment building was owned by a Pakistani. His next-door neighbor was an Indian, and the cold concrete passageway outside the house was more than tinged with the scent of curry. What proved interesting to me, as I dined with Umesh and his wife, was the education into how modern Diasporics use new technology to connect with each other and entertain themselves in their adopted countries. In short: I never used to be much of an Indian movie fan, but if I spend more time at Umesh's house in the concrete heights of Koenji, I will become one.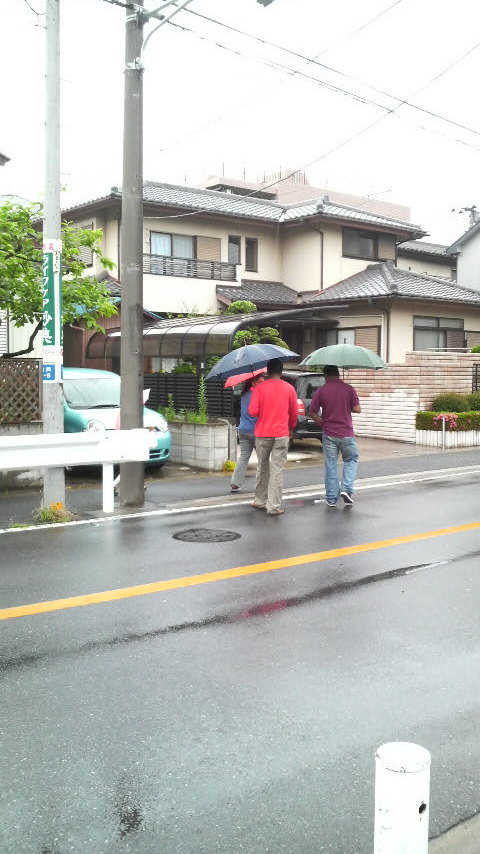 Myoden, a quiet suburban region near Urayasu in Chiba Prefecture, boasts a large Indian community, as well as an Indian kindergarten.
Roughly two months after, in February 2008, I returned to Koenji to see Umesh -- it was a truly brutal Sunday afternoon, wind blowing a gale and cold as hell. Things looked warmer in Koenji's PAL Arcade however, with curry shops all over the place, and the atmosphere positively screaming Little India, as the
Japanese "king of subculture" Jyun Miura once observed
. Umesh made some steaming food and we cracked open a few bottles of beer, ice cold of course. It was cricket season down Under, and Umesh was following the action in the India vs Australia One Day game at the SCG -- not on TV or radio or online TV, but rather watching a text feed updated delivery by delivery, over by over, over the computer. It was like watching a scoreboard -- changes in the numbers denoted action, a leg-bye here, a boundary there. About as far from high fidelity as you can imagine, but at least it was live (real time), and it was in its own way, absolutely riveting (admittedly, it was an unusually exciting match.) Umesh was barracking for the Indians, and I was barracking for the Aussies, and we were drinking big bottles of Asahi beer, and downing a range of Nepali treats. There was no picture and there was no sound, but we had the power of
imagination
(the world's first Virtual Reality.) In my mind's eye I see it all: the Indians rallying valiantly, in the closing overs, to reach Australia's 7/317 (they were eventually dismissed for 299.)
PAL Arcade in Koenji, the heart of Tokyo's "Little India".
We had no audio, but you didn't need ears to hear the taunts which must have belched from the stands at the Sydney Cricket Ground every time an Indian tail-enders put bat on ball, and darted up to the other end of the wicket. You could feel the tension in the air, as the old cliche goes, even this far away, in wintry Japan... the atmosphere was boiling over. At home in Australia, I could well imagine my Dad cursing at the TV and perhaps even launching the remote-con at the screen, once it dawned on him that India might have a chance of winning. But then Sharma was bowled out by Lee, and everything was golden again, Down Under. Rapturous cheers, and grinning commentators delivering their post-mortems. It was a vivid moment which proved to me that sometimes imagination outclasses technology; and the nearest memory it evoked, was listening to the action at Lords on shortwave radio, when I was about eight-years-old and living on the NSW Central Coast. Those were the days when books had better special effects, than the Hollywood recreations of them (I am thinking in particular of JRR Tolkien's
The Lord of the Rings,
or Baz Lurhmann's The Great Gatsby
). The following night, at my singing job in Shinjuku, I related the story to my Kiwi coworker D. "It is a pity there is nowhere on the Internet you can watch the cricket live," I remarked. "But there is," D. said. "Why don't you try
Sopcast
? There is some Indian guy running it, feeding cable TV live on to the Net."