Clear autumn sunshine always takes me back to my first morning in Japan, November 11 2000, when I arrived at Shibuya Station all baffled and dishevelled and with literally nothing but the shirt on my back. My luggage had gone awol at Singapore's Changi Airport, and I had only a T-shirt to protect myself from the northern chill, which was steadily coming on. I walked up to Yoyogi Park looking for the youth hostel, only to find it closed. I had more luck, however, locating plenty of gorgeous garments in the greater Shibuya/Harajuku area, including a jacket appropriate for the seasonal clime. Since that time I have accumulated several layers of Harajuku clothes, and on top of that, an even thicker layer of Harajuku memories, some of the most poignant of them dating from autumn -- there is something about the crisp blue skies which really bring out the beauty of this place. Blue skies and marauding crows -- that is my image of Harajuku in autumn. Heaving crowds and steam puffing from the surrounding buildings. Venerable old ichou ginkgo trees, threatening to turn yellow. Cute girls wherever you look. Guys that could almost be girls, if they tried a little harder.
One girl holding two bags, and two girls holding hands, on one of the many promising backstreets of Harajuku (Japan, 2006)
At the end of 2006 I spent a classic series of afternoons wandering around the sunny streets, ripped thanks to my mate Maniac High (aka Dennis the Menace), taking photographs of the shops, chilling in the park, and checking out all the cute girls holding hands. That was about the era that this Shibuya
shopping guide
thing here came of age, and it reached its apogee in the Lesbian Christmas of Shinjuku 2 Chome (and celebrity shopping with my cousin Kel!) Since then, a lot has happened in my life, and Harajuku hasn't featured so prominently in my life. It has always been there of course, I am often there, but I have taken it for granted, and ignored it. It has become a place I pass through, on my way to other goals. I understood the potential that was there, but I had my sights set on juicier targets -- for example getting to my love in Vietnam, or making money from Adsense. Yesterday, after finishing my 9000 Yen per hour job near Harajuku Station, I walked down the famous Takeshita Avenue heading to Parco Department Store in Shibuya (to see about my debt), and found myself reveling in the amazing sun and generally Indian summer weather. I thought to myself:
My god, it has been a long time I have been inspired to write about Harajuku... nearly two years! I wish I could find inspiration again, because there is so much to write about it here, all around me!
Topshop, by Topman, due to open in Harajuku on October 16 (Japan, 2008)
At that moment some lady belled me to get out of the way of her bicycle, and I looked up to see a huge white building on the other side of the road, with a sign proclaiming:
TOPMAN
. I hadn't realized it before, but
Topman (Topshop) had made it to Japan
. In fact, it is part of the legendary La Foret complex! But then again,
everything
makes it to Japan eventually, everything but
The Simpsons
of course. (They do like Columbo though, and The Sopranos. Japan introduced me to these shows.)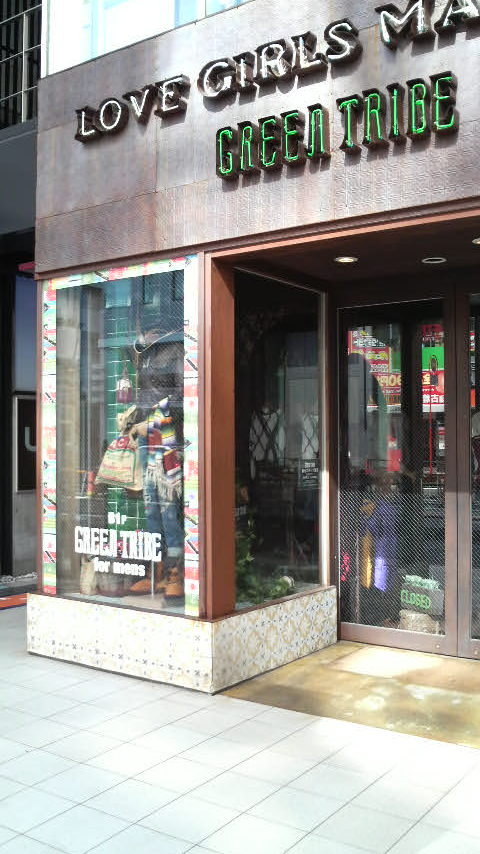 Love Girls Market branch, on the mighty Meiji Dori, near Harajuku (Japan, 2008)
On my side of the street, which I believe was the mighty Meiji Dori (明治道り), I photographed the quaint shop pictured above, called Love Girls Market / Green Tribe. This is a branch of the Love Girls Market franchise, which presents a fusion of fashion heavily influenced by ethnic styles, and has stores in Tokyo, Osaka, Kobe, Fukuoka, Sendai and Sapporo, as well as Hong Kong. You learn so much, encounter so much, just by walking through the streets of Harajuku early on a Tuesday morning! I ought to do it more often. I ought to appreciate it more often.