Go to any convenience store in Bangkok and you will find them: small skewered sausages posing on the counter with the Slush puppies and other synthetic junk, gleaming brown and burgundy in their intestinal cases. I have never munched one of these mystery meat Wieners in Thailand, partly because they aren't exotic enough to warrant the time, money and stomach space, and partly because I am worried about getting sick. To put it blunt, Bangkok doesn't seem the place to be eating sausages... it seems a bit cheesy, a little bit too porky, and I'd feel a little bit too much like Homer Simpson on vacation! That said, I do enjoy stopping off regularly at the many convenience stores in this city whenever I am walking crosstown, to cool off and top up on Red Bull, my tonic of choice in the Kingdom, or hopefully to get into a conversation with any of the young female staff working there! But back to the meat: it turns out you can eat these little skewered sausages out on the street too, although again I have never actually done so. I did enjoy some squid on a stick on my last trip to Bangkok though, at food stalls right near the Democracy Monument (อนุสาวรีย์ประชาธิปไตย), on Thanon Ratchadamnoen Klang. The squid came in a takeaway plastic bag dripping with fiery sauce, and set me back 15฿. There was a Bollywood movie being filmed at the Monument at the time, filling the air with sweet and pungent Indian sounds. I noted to myself how Indian in fact the Democracy Monument looked, with its beds of vivid flowers (I could see why it would make a good backdrop for a Bollywood romance scene.)
Squid for 15 Baht a stick, and sausages on the street outside McDonald's, near the Democracy Monument (Thailand, 2008)
Wrote one Matthew Amster-Burton, back in the year 2000: "The typical Thai breakfast is rice porridge, but vendors offered plenty of atypical selections as well. One woman whose cart stood near the Democracy Monument on Thanon Ratchadamnoen Klang was pouring perfect silver-dollar, and smaller (1 baht?) pancakes onto a griddle. And one of the most beloved foods in Bangkok is ice cream. McDonald's offers a standard soft serve cone for 7B and Baskin-Robbins fights back with its "Teen Scoop", but the street vendors really get weird, piling three scoops of vanilla onto a hot dog bun and topping it with corn kernels or red bean paste. McDonalds, I should add, offers its pies in three flavors: pineapple, taro, and corn..."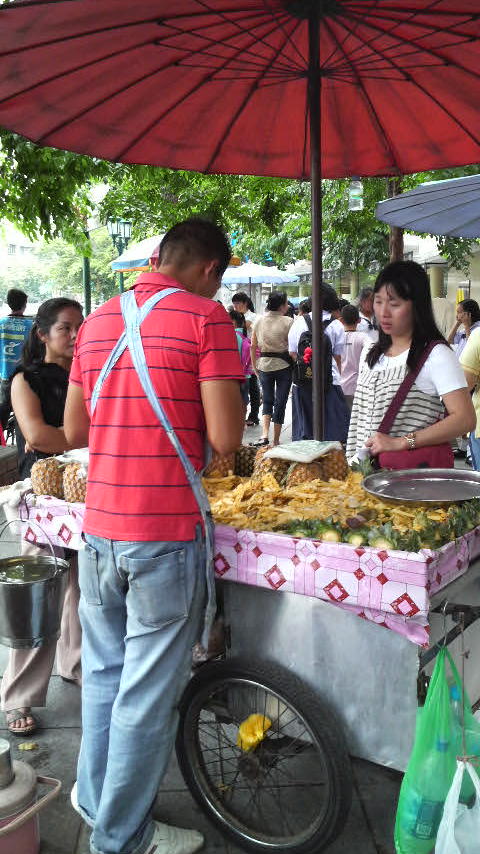 Fresh fruit always goes down a treat on hot summer days (Thailand, 2008)
For more street food Bangkok style hit kyspeaks, who declared after a long expedition grazing in Bangkok: "My favorite would be the bacon stick we had at the Chatuchak weekend market. For 20 baht (around RM2), you get mini sausages wrapped with bacon on a skewer. The union of sausage and bacon was a match made in heaven as the juice and slight saltiness from bacon compliments the texture and taste of the sausage oh so well. You have to try this if you manage to find the stall!"
As I said earlier, I have never eaten these Simpsonish sausages in Bangkok. The next time I am there, I might very well partake! You only live once, and there is no room for food snobbishness in this world!